Lesson Plan for Luke 12-17 & John 11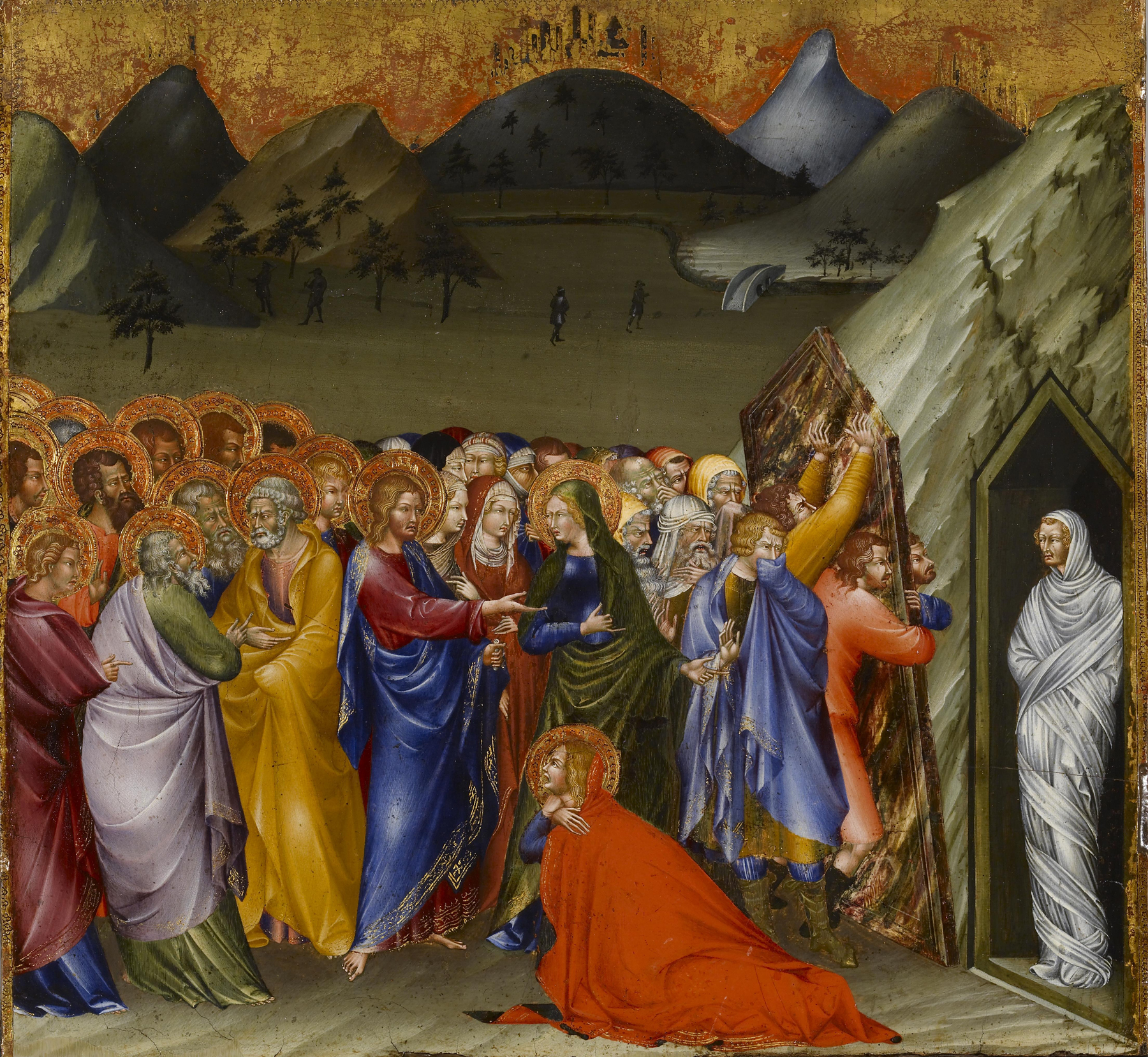 We had last seen the Savior come to Jerusalem during the Feast of Tabernacles and declared many hard things from the temple. So many hard things were said that the Pharisees and scribes took up stones to slay Jesus (see John 10:31). He has left Jerusalem at this point and is within the last month or so of his public mortal ministry. At the end of John 11, his public mortal ministry will officially come to an end.
This all builds a bridge to something that has been bothering Jesus for the past few months, at least. We are told on a few occasions in these chapters (see John 11:33 & Luke 12:50), and many times in the previous few weeks' readings, that He is feeling anxious, unsure, troubled, and maybe slightly depressed. He knows the end is approaching and is feeling the metaphorical emotional heat. I noted in a previous lesson that the reason Jesus went to the top of the Mount of Transfiguration, according to James E. Talmage, was because He was troubled and needed comfort from angels.
We get the same thing again in Luke 12:50
READ LUKE 12:50
50 But I have a baptism to be baptized with; and how am I straitened till it be accomplished!
The word 'straitened' in this verse comes from the Greek word 'sunechomai' and its more full meaning, according to the NET Bible, is "I am on the verge of emotionally falling to pieces, but I am holding it together" (1). Why is Jesus having a hard time? He specifically says it is the oncoming baptism of blood He knows he will have to undergo in just a matter of a few weeks. In the story of Jesus raising Lazarus from the dead, we get a similar thing, but we will review that when we get to it.
QUESTION:
What principles might we learn from Jesus in these chapters knowing that while He is doing all of this teaching and works of miracles, He was very troubled emotionally on the inside?
Jesus is an example of what it means to endure to the end. He endured despite the emotional turmoil. These feelings that come from our fallen natures and, maybe, even Satan have their purpose. I feel Neal A. Maxwell sums up this feeling well and how it should be viewed:
"... Attention from the adversary is merely a cruel form of commendation, if we can but stand the "praise". There is such a thing as being praised with faint damns." (2)
We see Jesus maybe slightly more agitated than normal at the Pharisees because of this in these chapters. This isn't to say Jesus did anything wrong, but it is to say His patience with whom he called hypocrites, often, was wearing thin.
We are going to mainly focus on Luke chapter 15 and John 11 in this lesson plan, but it is worth summing up quickly what Jesus' teachings were in chapters 12-14. In a nutshell, Jesus is having direct conversations with Pharisees and Scribes. This is why many hard teachings are found in those chapters. In chapter 14 Jesus tells a parable of the great supper where those who were initially invited rejected the invitation. They eventually have to invite the poor, maimed, lame, blind, and those on the highways and hedges (aka the outcasts). The beginning of chapter 15 sort of fulfills this parable when many publicans and sinners come forth now to hear the Savior. It is at this moment, the change in audience, that the parables take on a more merciful tone.
The Lost Get Found: 1 out of 99, 1 out of 10, even 1 out of 2
Jesus is condemned by the Pharisees and scribes for embracing these sinners, which leads to the parable of the lost sheep.
READ LUKE 15:3-7
3 ¶ And he spake this parable unto them, saying,

4 What man of you, having an hundred sheep, if he lose one of them, doth not leave the ninety and nine in the wilderness, and go after that which is lost, until he find it?

5 And when he hath found it, he layeth it on his shoulders, rejoicing.

6 And when he cometh home, he calleth together his friends and neighbours, saying unto them, Rejoice with me; for I have found my sheep which was lost.

7 I say unto you, that likewise joy shall be in heaven over one sinner that repenteth, more than over ninety and nine just persons, which need no repentance.
What principles was the Savior trying to teach with this simple parable?
It is worth remembering that last week we read a somewhat lengthy sermon in John chapter 10 about the Lord gathering Sheep because they recognized His voice. It might be safe to say this lost sheep, therefore, deliberately left the flock and perhaps, at least initially, did not want to be found. This sheep would have long resisted the voice of the good shepherd, in other words.
Elder Dieter F. Uchtdorf has taught:
"Over the centuries, this parable has traditionally been interpreted as a call to action for us to bring back the lost sheep and to reach out to those who are lost. While this is certainly appropriate and good, I wonder if there is more to it.

Is it possible that Jesus's purpose, first and foremost, was to teach about the work of the Good Shepherd?

Is it possible that He was testifying of God's love for His wayward children?

Is it possible that the Savior's message was that God is fully aware of those who are lost—and that He will find them, that He will reach out to them, and that He will rescue them?

If that is so, what must the sheep do to qualify for this divine help?

... The sheep is worthy of divine rescue simply because it is loved by the Good Shepherd." (Bold added for emphasis) (3)
The Savior tells of another parable, without stopping, known as the parable of the lost piece of silver. According to biblical scholars, the coin was a drachma which represented a full day's wage in the Roman Empire. In addition, this woman was most likely understood as a newlywed who was looking for a drachma now missing from a special scarf she created from the drachma her husband gave her on her wedding night. In ancient Jewish culture, this scarf would have been closely tied to the woman's identity as being married. In other words, to have lost the drachma would have probably felt like she lost a part of herself or was worth much more to her than a single day's wage. This is why she looks for it diligently until it is found (4). Note how the language of rejoicing at the end of this parable is deeper than the rejoicing at the end of the parable of the lost sheep, we will revisit that in a bit after the next parable.
Without stopping, the Savior gives one of his most well-known parables, the parable of the prodigal son.
READ LUKE 15:11-24
11 ¶ And he said, A certain man had two sons:

12 And the younger of them said to his father, Father, give me the portion of goods that falleth to me. And he divided unto them his living.

13 And not many days after the younger son gathered all together, and took his journey into a far country, and there wasted his substance with riotous living.

14 And when he had spent all, there arose a mighty famine in that land; and he began to be in want.

15 And he went and joined himself to a citizen of that country; and he sent him into his fields to feed swine.

16 And he would fain have filled his belly with the husks that the swine did eat: and no man gave unto him.

17 And when he came to himself, he said, How many hired servants of my father's have bread enough and to spare, and I perish with hunger!

18 I will arise and go to my father, and will say unto him, Father, I have sinned against heaven, and before thee,

19 And am no more worthy to be called thy son: make me as one of thy hired servants.

20 And he arose, and came to his father. But when he was yet a great way off, his father saw him, and had compassion, and ran, and fell on his neck, and kissed him.

21 And the son said unto him, Father, I have sinned against heaven, and in thy sight, and am no more worthy to be called thy son.

22 But the father said to his servants, Bring forth the best robe, and put it on him; and put a ring on his hand, and shoes on his feet:

23 And bring hither the fatted calf, and kill it; and let us eat, and be merry:

24 For this my son was dead, and is alive again; he was lost, and is found. And they began to be merry.
QUESTION:
What principles do we learn in this parable? What do we learn about our Father in this parable?
Note how the end of each parable gets deeper into the heavenly realm, otherwise known as the temple. The found sheep has all of heaven rejoicing. The coin that was found had all the angels in the presence of God rejoicing. In this parable, the parable of the prodigal son, there is a one-on-one embrace with the Father. Elder Holland has noted that getting the robe, the ring, and the fatted calf all symbolize the royal return into Heavenly Father's presence by any and all of His children. (5)
These parables offer the most hopeful message if we will choose to comprehend them.
Sister Sheri Dew once wrote:
"One would think it would be easy to embrace and have faith in the gift of the Atonement [of Christ]. But I fear that some of us understand just enough about the gospel to feel guilty--guilty that we are not measuring up to some undefinable standard--but not enough about the Atonement to feel the peace and strength, the power and mercy it affords us." (6)
One of my favorite songs that conveys this hopeful message has the following moving lyrics:
"It's been a long time since you felt peace

In the valley you made where you're not meant to be

Where the shame throws shadows on you

But don't you forget

That you're headed to more

But you've settled for less

Don't buy the lie "it's as good as it gets"

The same feet that left you lost and alone

Are the very same feet that'll bring you back home

Wherever you are, whatever you did

It's a page in your book, but it isn't the end

Your Father will meet you with arms open wide

This is where your heart belongs

Come running like a prodigal




There will be nights, when you hear whispers

Of the life you once knew, don't let it linger

'Cause there's a grace that falls upon you

Don't you forget

In the places your weak

He is very strong

Don't ever believe "you don't deserve love"

The same God that protects you when you're lost and alone

Is the very same God that is calling you home" (7)
This is the kind of Hope in Christ that caused Nephi to once say "I pray the Father in the name of Christ that many of us, IF NOT ALL, may be saved in his kingdom at that great and last day" (see 2 Nephi 33:12). It highlights that repentance is not a bar to be met by a large sovereign deity. Repentance is the gift given to us once we are found. We repent out of love. We repent because we are moved by the saving efforts of our Heavenly Father and our Savior Jesus Christ.
But what about those of us who have loved ones that are currently away in a "far country"?
This is where this parable probably has heavy temple themes attached to it. David A. Bednar once taught:
"The influence of parents who honor covenants and obey commandments indeed can have a decisive spiritual impact upon children who stray by activating the tentacles of divine Providence—in ways that have not been revealed fully and are not understood completely." (8)
There is a second half to this parable that we don't talk about as often. The second son points out that his brother went out and spent his inheritance with prostitutes (the proper meaning of the Greek in verse 30). The son feels it is unjust that his brother got the celebration he got. The response the father gives his son is moving.
READ LUKE 15:31-32
31 And he said unto him, Son, thou art ever with me, and all that I have is thine.

32 It was meet that we should make merry, and be glad: for this thy brother was dead, and is alive again; and was lost, and is found.
Elder Jeffry R. Holland has aptly commented on this part of the parable:
"This son is not so much angry that the other has come home as he is angry that his parents are so happy about it. Feeling unappreciated and perhaps more than a little self-pity, this dutiful son—and he is wonderfully dutiful—forgets for a moment that he has never had to know filth or despair, fear or self-loathing. He forgets for a moment that every calf on the ranch is already his and so are all the robes in the closet and every ring in the drawer. He forgets for a moment that his faithfulness has been and always will be rewarded.

No, he who has virtually everything, and who has in his hardworking, wonderful way earned it, lacks the one thing that might make him the complete man of the Lord he nearly is. He has yet to come to the compassion and mercy, the charitable breadth of vision to see that this is not a rival returning. It is his brother. As his father pled with him to see, it is one who was dead and now is alive. It is one who was lost and now is found.

Certainly this younger brother had been a prisoner—a prisoner of sin, stupidity, and a pigsty. But the older brother lives in some confinement, too. He has, as yet, been unable to break out of the prison of himself." (9)
JESUS RAISES LAZARUS AND LAZARUS COMFORTS JESUS
The gospel of John is very distinct from the synoptic gospels (Matthew, Mark, & Luke). One of the distinct differences is the word John uses for miracles in Greek compared to what the synoptic use. The Synoptics universally uses the word dynamis (which simply means miracle or mighty works), while John universally uses the word sēmeîon. John's word more fully means, "a sign, mark, or token; miracles or wonders by which God authenticates the men sent by him" (10). John only chooses to include 7 of these signs within his gospel; the number seven anciently is heavily related to the meaning of perfection and completion. For this reason, biblical scholars call the first half of the Gospel of John the Book of Signs. The miracle or sign found in John 11 ends the signs or the first half of the Gospel of John.
In John chapter 11, the sisters, Mary & Martha, send for Jesus to come to the city of Bethany which was located just outside Jerusalem. Their brother had died and they sent for Jesus who "loved" Lazarus. The Greek for love in verse 3 is phileis which is a variant of phileo. It means a type of love that only the best of friends share, therefore, Jesus at some point has had a very close relationship with this family even though we are only now hearing about Lazarus for the first time in John's gospel. I point this out because, in verse 5 of the KJV, we appear to be redundant when we are told, again, that Jesus loved these people. In verse 5 though, we get the Greek word agape which at its core means the divine love of the gods. So, in other words, Mary & Martha knew that Jesus was a close family friend in verse 3 but Jesus knew within Himself that the love He had for this family was divine, what we would call Charity.
With all that said, verse 6 might throw us for a loop.
READ JOHN 11:6
6 When he had heard therefore that he was sick, he abode two days still in the same place where he was.
QUESTION
In context, and the Greek here is translated well in the KJV, it is saying that the Lord had Charity for this family which is why he tarried for two days before he made the trip to Judaea. How do we make sense of this? Why would waiting two more days be a charitable act? Doesn't that seem like the behavior of one who does not care?
I'll come back to this question later. At this point, we need to remember that just a week or two earlier Jesus was in Jerusalem teaching at the temple during the Feast of Tabernacles. As noted earlier, the people there tried to stone Him a few times. Therefore, this trek to Bethany would have been risky for Jesus and His band of disciples. Jesus goes on to explain that Lazarus is dead and relishes in the opportunity to build the Faith of His disciples for what they are about to witness.
As a side note, verse 16 is a great verse to remember when we get to the "doubting Thomas" episode in John chapter 20. Thomas had a lot of Faith and insisted that they follow the Lord to Bethany, even if it resulted in their deaths.
Jesus arrives on the scene four days after Lazarus had been laid in a tomb. Martha first comes to Jesus to greet Him. They have an interesting exchange.
READ JOHN 11:20-27
20 Then Martha, as soon as she heard that Jesus was coming, went and met him: but Mary sat still in the house.

21 Then said Martha unto Jesus, Lord, if thou hadst been here, my brother had not died.

22 But I know, that even now, whatsoever thou wilt ask of God, God will give it thee.

23 Jesus saith unto her, Thy brother shall rise again.

24 Martha saith unto him, I know that he shall rise again in the resurrection at the last day.

25 Jesus said unto her, I am the resurrection, and the life: he that believeth in me, though he were dead, yet shall he live:

26 And whosoever liveth and believeth in me shall never die. Believest thou this?

27 She saith unto him, Yea, Lord: I believe that thou art the Christ, the Son of God, which should come into the world.
QUESTION
Martha shows forth great Faith in knowing that even now the Lord can do all things. Jesus promises her that Lazarus will rise again and Martha recollects the promise of a future bodily resurrection at the last day. What do we make of Jesus' seeming loving but correcting response in verse 25?
One Latter-Day Scholar has written:
"Martha's opening words are filled with sorrow, faith, and even frustration. She has unquestioned confidence in Jesus's abilities, but we may sense in her words a soft criticism of His motivations. Assuming that He is speaking of the end-times Resurrection, Martha takes only partial comfort in Jesus's words. She has what we may call eschatological faith in God—that is, faith that God can and will right all wrongs but will only do so when life and history have run their full course. She does not yet understand God's willingness to provide help and aid throughout the journey of mortality.

Jesus must gently remind her that she is standing in front of the embodiment of life and resurrection. His presence is living proof that God does not wait until the end of time to help His children. This is an example of realized eschatology, in which the eventual blessings promised by God are made available here and now through the mediation of Jesus Christ. In response to this, Martha gives a powerful confession of faith—in fact, this confession may be the only one in the Gospel of John that does not require immediate correction or emendation by Jesus. Martha finally understands who Jesus is." (11)
It is a bitter lesson and a necessary lesson to learn that some blessings come in the Lord's timetable. The harder lesson to learn, in my opinion, is that God is a God of miracles today. All things are possible through Him. In support of this, it should be noted that Jesus invokes an 'I Am' statement in verse 25. The meaning anciently was understood that God exists IN this moment. Jesus is teaching that we must not just have Faith in the future, but Faith in the present. That yields the kind of Faith that Boyd K. Packer said: "causes things to happen" (12).
In this story, we transition to the exchange Jesus had with Mary. Jesus beholds Mary weeping which causes a huge rush of emotions for him. He not only begins to weep but verse 33 says he was 'troubled'. This word is from the Greek etaraxen and more fully means "to strike one's spirit with fear and dread and to render them anxious and distressed" (13).
I say this reverently, but it appears that the Greek is pretty plain in saying that Jesus really felt for this family and it also caused a large surge of emotions for Him, probably being heavily reminded of what He knows he will have to undergo just a week and a half later (tradition holds that this miracle happened the Sunday before Palm Sunday, two weeks, therefore, before Easter Sunday).
Through it all, Jesus keeps it together and comes to Lazarus' grave.
READ JOHN 11:39-46
39 Jesus said, Take ye away the stone. Martha, the sister of him that was dead, saith unto him, Lord, by this time he stinketh: for he hath been dead four days.

40 Jesus saith unto her, Said I not unto thee, that, if thou wouldest believe, thou shouldest see the glory of God?

41 Then they took away the stone from the place where the dead was laid. And Jesus lifted up his eyes, and said, Father, I thank thee that thou hast heard me.

42 And I knew that thou hearest me always: but because of the people which stand by I said it, that they may believe that thou hast sent me.

43 And when he thus had spoken, he cried with a loud voice, Lazarus, come forth.

44 And he that was dead came forth, bound hand and foot with graveclothes: and his face was bound about with a napkin. Jesus saith unto them, Loose him, and let him go.

45 Then many of the Jews which came to Mary, and had seen the things which Jesus did, believed on him.

46 But some of them went their ways to the Pharisees, and told them what things Jesus had done.
Lazarus has laid in the tomb for four days and Martha is afraid of what might come out of the tomb. This underscores, in my opinion, that Martha, who had just had a Christological confession on par with Peter's (see Matthew 16:16), knew that Jesus was about to raise her brother again. She was simply afraid she wouldn't like what she saw.
Jesus says a little prayer before the miracle but He doesn't ask for the power to bring Lazarus forth, he simply commands it a little later. In fact, biblical scholars claim that what Jesus means here is He has already asked for the miracle previously but is now saying a prayer vocally to draw the glory to the Father. New Testament scholar, N.T. Wright notes that this explains why Jesus waited two whole days to come to Bethany (14). The four days were just long enough to dispel all doubt about this miracle.
QUESTION:
What might it mean for us when we wait on promised blessings to come to know the Savior plans for these things in order to consecrate the outcome?
Elder Jeffrey R. Holland has commented:
"Faith means trusting God in good times and bad, even if that includes some suffering until we see His arm revealed in our behalf." (15)
Jesus raises Lazarus from the grave before a very large audience. It is the third recorded instance we have, according to James E. Talmage, of Jesus raising someone from the dead in the gospels. But, this is the first time Jesus had raised someone days after death, "when, by natural processes the corpse would be already in the early stages of decomposition" (16). Even further of note, Jesus, when He speaks with a loud voice in verse 43, uses a very rare Greek word, ekraugasen. The only other times this word is used in John's Gospel is when the crowd gives the Hosanna shout when He arrives in Jerusalem on that first Palm Sunday (see John 12:13) and then a few times in John chapter 19 when the crowd continues to scream for the crucifixion of Jesus. Jesus is echoing what He foresees coming (see Eerdmans, p. 1190).
This miracle, according to John, is what really sets the Jewish leadership's hair on fire thinking Jesus will end up even provoking the Romans to annihilate their nation-state (see John 11:47-53). This is when they fully conspire on Jesus' death. This raising of Lazarus four days after burial was the ultimate sign; not a soul, prophet, or holy man had ever done such a thing in the history of Israel. It was a sure sign and token (the meaning of the word John uses in Greek, sēmeîon) that Jesus was the Christ. Jesus understands this, which is why it ultimately ends his public mortal ministry. Jesus goes into hiding for about a week and then triumphantly rides into Jerusalem on a donkey in John chapter 12.
QUESTION:
Let's go back to the troubled Jesus who talked to Mary. Remember, this whole scene of weeping made Him very troubled, distressed, and full of anxiety (see the Greek of verse 33). What might have this miracle done for Jesus?
New Testament scholar, N.T. Wright has written:
"The Jesus who is taking us all the way to the cross and beyond is the Jesus who didn't just sail through all that as though it was easy for Him; the Jesus whose compassion resulted in Him weeping at the tomb of his friend. I find that enormously comforting and just as comforting in its way as the promise of Resurrection. [Why?] For Jesus, this was the sign that He could go all the way to Calvary, all the way to suffering and death knowing that the God in whom He trusted would raise Him from the dead." (17)
What great comfort did He not only give to this family but what great comfort did the Father give Him two weeks before that first Easter Sunday!