Lesson Plan for Amos & Obadiah
Amos = עמוס = burden bearer
Obadiah = עבדיה = servant of Jehovah
Amos is a contemporary of the prophet Isaiah, but unlike most other prophets during the reign of Kings in Israel & Judah, he was not from the temple priest hierarchy. Amos was a herdsman of Tekoa who also farmed sycomore fruit. Biblical scholars suggest that because of Amos' location, the type of fruit he farmed, and the reference to himself as a herdsman and not a shepherd he was most likely a very wealthy man. He would not have been a lowly farmer. We can picture him perhaps a little bit like Lehi who appears to have been moderately wealthy and was not a temple priest.
Amos is called by God to go preach among the people of the northern Kingdom of Israel (remember, this is pre-exile during the time of Isaiah). His message is a little different than most prophets in that he doesn't decry a lot against idol worship or false doctrines or improper worship. His message can be summed up as a warning against the empty worship of the Northern Kingdom. It was empty because of their treatment of the poor. How much more emphatic is Amos' message when we realize he was not poor himself?
Amos' message about the poor
We can begin by summarizing chapter one and the beginning of chapter two by imagining it as a speech Amos is giving to a nationalistic group of people. He calls out in successive order surrounding nations and kingdoms and the sins they have committed against God.
Damascus will be punished for their violence against Gilead. (see Amos 1:3-5)
Gaza will be punished for their selling of slaves. (see verses 6-8)
Tyre will be punished for breaking political treaties with Israel and for selling slaves. (see verses 9-10)
Edom will be punished for their violence against their ancestral brethren, the Israelites. (see verses 11-12
Ammon will be punished for their conquest of war and atrocities committed against pregnant women. (see verses 13-15)
Moab will be punished for desecrating the bones of Edom's king. (see Amos 2:1-3)
Judah will be punished for not heeding the Lord's instructions repeatedly. (see Amos 2:4-5)
I imagine during this discourse reviewing the sins of Israel's political & national enemies, many are shouting in agreement. They probably like it when a man claiming to be a prophet among them comes along and speaks about what is wrong with everyone else... But Amos, it seems, purposefully leaves Israel for last.
Read Amos 2:6-8
"Thus saith the Lord; For three transgressions of Israel, and for four, I will not turn away the punishment thereof; because they sold the righteous for silver, and the poor for a pair of shoes;

That pant after the dust of the earth on the head of the poor, and turn aside the way of the meek: and a man and his father will go in unto the same maid, to profane my holy name:

And they lay themselves down upon clothes laid to pledge by every altar, and they drink the wine of the condemned in the house of their god."
Most of the Book of Amos is directed at the proud who have let their wealth defile them.
Read Amos 4:1-3
"Hear this word, ye kine (IE Cows) of Bashan, that are in the mountain of Samaria, which oppress the poor, which crush the needy, which say to their masters, Bring, and let us drink.

The Lord God hath sworn by his holiness, that, lo, the days shall come upon you, that he will take you away with hooks, and your posterity with fishhooks.

And ye shall go out at the breaches, every cow at that which is before her; and ye shall cast them into the palace, saith the Lord."
This prophecy is against the wealthier men & women, particularly the women (according to Robert Alter), who lived in the capital of Samaria. Amos calls them cows. The cows of Bashan were known to be extraordinarily fat. The almost comical point of Amos, who was a herdsman, is that these large cows would crush anyone they fell or landed upon. Therefore, the unruliness of these individuals who lived excessively was comparable; namely, they were crushing the poor in their excess.
As disciples of Jesus Christ, why do we have an obligation to the poor and needy among us?
Elder Jeffrey R. Holland, speaking towards the beginning of the COVID-19 pandemic, said:
"When we have conquered this—and we will—may we be equally committed to freeing the world from the virus of hunger, freeing neighborhoods and nations from the virus of poverty. May we hope for schools where students are taught—not terrified they will be shot—and for the gift of personal dignity for every child of God, unmarred by any form of racial, ethnic, or religious prejudice." (1)
On a different occasion, he pointed out:
"Down through history, poverty has been one of humankind's greatest and most widespread challenges. Its obvious toll is usually physical, but the spiritual and emotional damage it can bring may be even more debilitating... In our day, the restored Church of Jesus Christ had not yet seen its first anniversary when the Lord commanded the members to "look to the poor and … needy, and administer to their relief that they shall not suffer." Note the imperative tone of that passage—"they shall not suffer." That is language God uses when He means business... Perhaps some have created their own difficulties, but don't the rest of us do exactly the same thing? Isn't that why [King Benjamin] asks, "Are we not all beggars?" Don't we all cry out for help and hope and answers to prayers? Don't we all beg for forgiveness for mistakes we have made and troubles we have caused? Don't we all implore that grace will compensate for our weaknesses, that mercy will triumph over justice at least in our case? Little wonder that King Benjamin says we obtain a remission of our sins by pleading to God, who compassionately responds, but we retain a remission of our sins by compassionately responding to the poor who plead to us." (2)
What kind of obstacles does poverty present to people spiritually, as Elder Holland states?
Why does living compassionately towards those less fortunate than ourselves allow us to retain a remission of our sins, not just obtain it?
James 1:27 speaks about pure religion being about administering to these individuals. Our helping hands are the fulfillment of covenants, and that brings power. Without such, our gospel ordinances, rituals, doctrines, and practices hold empty meaning in our lives.
Amos teaches us something about Prophets
One of the more popular scriptures for Latter-Day Saints in the Old Testament is found in Amos chapter 3. Contextually, Amos just previously lamented Israel's tendency to ask the prophets to say nice things about them (see Amos 2:12). Amos, also, from the very beginning has compared the Lord's call to him like the roar of a lion (see Amos 1:1-3).
With that stage set, let's read Amos 3:1-8.
"Hear this word that the Lord hath spoken against you, O children of Israel, against the whole family which I brought up from the land of Egypt, saying,

You only have I known of all the families of the earth: therefore I will punish you for all your iniquities.

Can two walk together, except they be agreed?

Will a lion roar in the forest, when he hath no prey? will a young lion cry out of his den, if he have taken nothing?

Can a bird fall in a snare upon the earth, where no gin is for him? shall one take up a snare from the earth, and have taken nothing at all?

Shall a trumpet be blown in the city, and the people not be afraid? shall there be evil in a city, and the Lord hath not done it?

Surely the Lord God will do nothing, but he revealeth his secret unto his servants the prophets.

The lion hath roared, who will not fear? the Lord God hath spoken, who can but prophesy?"
What message do you think Amos is trying to convey here with the use of all these cause-and-effect examples?
Amos is giving a very similar message Jeremiah gave in Jeremiah 20:9 when he recalls the Lord's voice is like a fire in his bones that he could not contain. The Lord's call to his prophet being compared to a roar of a lion is interesting when you consider that the roar of a lion can reach up to 114 decibels, which is about 25 times louder than a gas-powered lawn mower. (3) In other words, the Lord's call to Amos is compared to probably the loudest sound Amos, the herdsman, could think of.
What can this tell us about why prophets might say some of the things they do?
Amos, in comparing the Lord's call to him like the roar of a lion, is saying the power of the Lord's call to him causes him to speak forth the words regardless of what ills will befall him. It also underscores just how plainly the Lord, at times, presents His message to his chosen servants.
The Hebrew in verse 7 really hits this home when we examine the Hebrew word for "secret", sôd. One biblical scholar has commented on this verse and word:
"More than merely a "secret" is implied by the kjv's rendering, the sôd in this passage is not just confidential instruction delivered by God but also the manifestation of God's heavenly court."

(4)
There are many interesting implications to this. LDS scholar Joseph Spencer explains it succinctly: "The temple is where human beings are inducted into the divine council." (An Other Testament, p. 51) Anciently, scholars explain that the temple was a ritual reenactment of the divine heavenly court. Amos, therefore, admits here in Hebrew that he, and most other prophets, received their call from the Lord in very sacred spaces; before God, angels, and witnesses.
Joseph Smith once taught:
"No Generation was ever saved or destroyed upon dead testimony; neither can be, but by Living Oracles." (5)
With these things in mind, Elder Holland's powerful words take on even more power:
"Not often but over the years some sources have suggested that the Brethren are out of touch in their declarations, that they don't know the issues, that some of their policies and practices are out-of-date, not relevant to our times.

As the least of those who have been sustained by you to witness the guidance of this Church firsthand, I say with all the fervor of my soul that never in my personal or professional life have I ever associated with any group who are so in touch, who know so profoundly the issues facing us, who look so deeply into the old, stay so open to the new, and weigh so carefully, thoughtfully, and prayerfully everything in between. I testify that the grasp this body of men and women have of moral and societal issues exceeds that of any think tank or brain trust of comparable endeavor of which I know anywhere on the earth. I bear personal witness of how thoroughly good they are, of how hard they work, and how humbly they live. It is no trivial matter for this Church to declare to the world prophecy, seership, and revelation, but we do declare it. It is true light shining in a dark world..." (6)
How do we square this with the notion that we also believe that the brethren are not infallible?
The scriptures, ancient and modern, are replete with examples of men who had mistaken notions and opinions and who were still holy. Perhaps following the prophet is not so much about following them "because they know the way", but more so they lead us on a path to make covenants with Christ so that we too may enjoy heavenly blessings despite our frailties in thinking and opinions. Maybe this is what is meant by sustaining our leaders? Sustain them in their heavy mantle despite the flaws and weaknesses they may have, we probably would also want to be sustained the same way if roles were reversed. This can also help us distinguish that they and the Lord mean business when they say "Thus saith the Lord".
Summary of the rest of Amos
Below is a chart summarizing Amos' full message to Israel. While he prophesies their destruction, in chapter 9 we are promised that they will be regathered. It is interesting to think that, at least for Amos, the destruction of Israel largely hinged on their treatment of the poor.
It is also worth mentioning, quickly, that a popular scripture for Latter-Day Saints is Amos 8:11-12. The typical interpretation is that this is a prophecy about the Great Apostasy. While this might be a perfectly okay interpretation, it is also perfectly okay to read this in context and realize that this prophecy is about the destruction of the Northern Kingdom and what life will be like for the inhabitants after they are scattered. After they are scattered by the Assyrians, if we remember, the 10 tribes of Israel become lost. At least for me, that is a more accurate interpretation of Amos 8:11-12.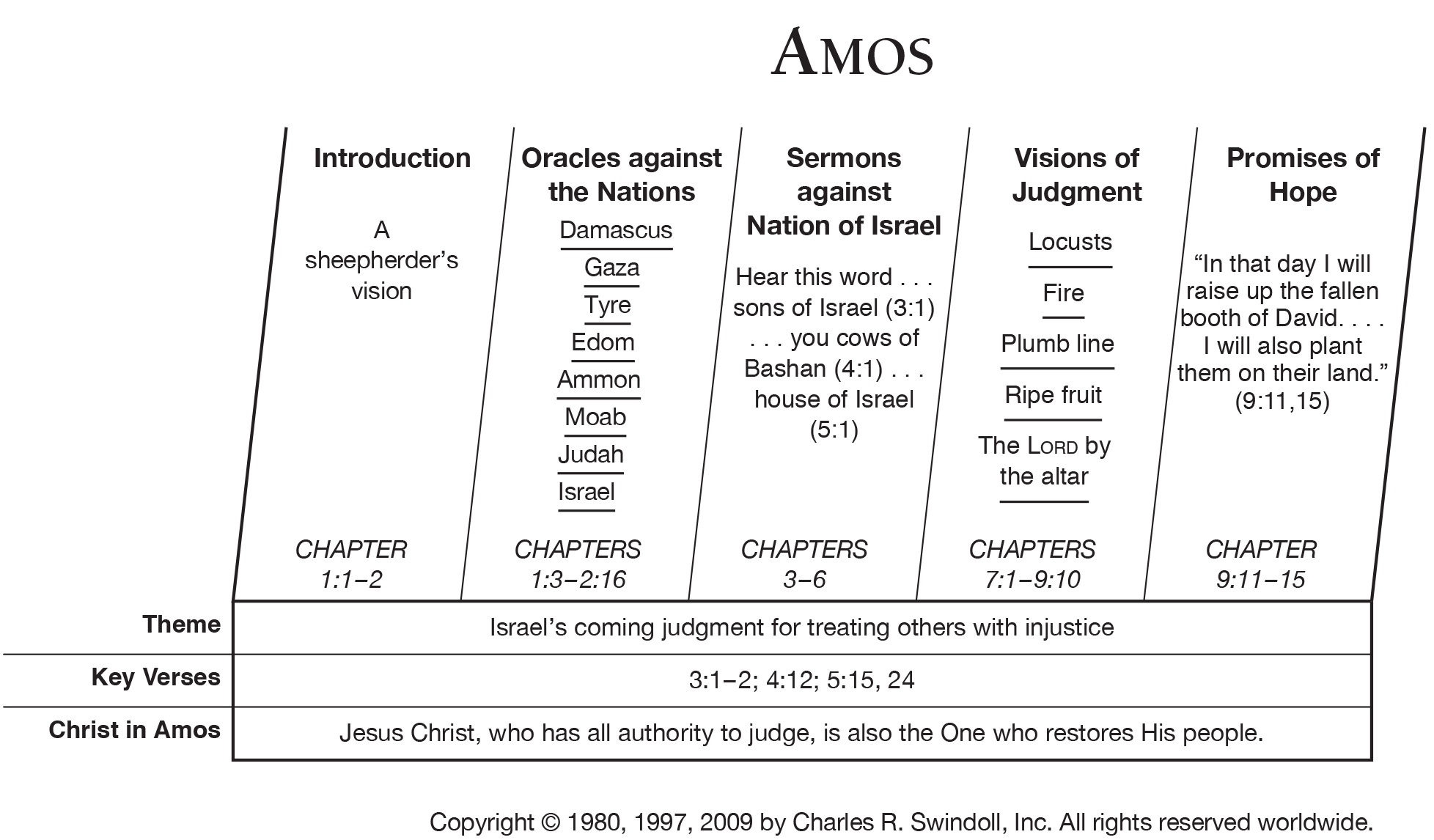 Obadiah
Obadiah is one of the only prophets in the Old Testament who is called forth to prophesy against a nation other than Israel or Judah. His ministry is towards the people to the south, the Kingdom of Edom. These are the descendants of Esau, the older brother of Jacob. Most scholars pinpoint Obadiah as being a contemporary of Jeremiah, but they also point out there are about 12 different men who go by the same name throughout the Old Testament, including the same individual who associated with Elijah in 2 Kings 18.
The first half of Obadiah (first 14 verses) is about the people forgetting their kinship towards the descendants of Jacob (Judah and Israel) and decrying their sins. This first portion is also stated almost word for word in Jeremiah 49:7-22 (which is another reason why biblical scholarship puts this in Jeremiah's day). (7) Therefore, what sets Obadiah's words apart is the last half of the book, which is a prophecy of the last days.
Read Obadiah 1:15-21
"For the day of the Lord is near upon all the heathen: as thou hast done, it shall be done unto thee: thy reward shall return upon thine own head.

For as ye have drunk upon my holy mountain, so shall all the heathen drink continually, yea, they shall drink, and they shall swallow down, and they shall be as though they had not been.

But upon mount Zion shall be deliverance, and there shall be holiness; and the house of Jacob shall possess their possessions.

And the house of Jacob shall be a fire, and the house of Joseph a flame, and the house of Esau for stubble, and they shall kindle in them, and devour them; and there shall not be any remaining of the house of Esau; for the Lord hath spoken it.

And they of the south shall possess the mount of Esau; and they of the plain the Philistines: and they shall possess the fields of Ephraim, and the fields of Samaria: and Benjamin shall possess Gilead.

And the captivity of this host of the children of Israel shall possess that of the Canaanites, even unto Zarephath; and the captivity of Jerusalem, which is in Sepharad, shall possess the cities of the south.

And saviours shall come up on mount Zion to judge the mount of Esau; and the kingdom shall be the Lord's."
Interestingly, the Hebrew for Edom is spelled the same way the Hebrew for Adam is. Therefore, the discussion towards Edom, the people of Esau, could theologically also be pointed to all nations that stem from Father Adam. This is consistent with scriptures that refer to Edom by its other name, "Idumea", to refer to the entire world (see D&C 1:36).
In what ways can we be Saviors on mount Zion?
Joseph Smith was the first to really unfold its meaning in our dispensation:
"... the Saints [are] to come up as saviors on Mount Zion. But how are they to become saviors on Mount Zion? By building their temples, erecting their baptismal fonts, and going forth and receiving all the ordinances, baptisms, confirmations, washings, anointings, ordinations and sealing powers upon their heads, in behalf of all their progenitors who are dead, and redeem them that they may come forth in the first resurrection and be exalted to thrones of glory with them..." (8)
Contextually speaking, verse 21 doesn't fit very well with the destruction and the "devouring" in the previous verses. It says these Saviors will come and judge the mount of Esau. How are we to make sense of this? How are these "Saviors" going to actually save, but also take the lands from Edom in the last days and be their judges?
LDS Scholars Dr. Carlfred Broderick & Gary P. Gillum give insight:
"God actively intervenes in some destructive lineages, assigning a valiant spirit to break the chain of destructiveness in such families. Although these children may suffer innocently as victims of violence, neglect, and exploitation, through the grace of God some find the strength to 'metabolize' the poison within themselves, refusing to pass it on to future generations... Saviors on Mount Zion, among others, are those who refuse to pass on the destructive, toxic parenting they received... It gives meaning to the sacrifice and recognition to the courage of those who have committed their lives to purifying a lineage." (9)
In short, it seems that the scattering of these people by God was his way of placing the posterity of wicked generations in a situation where they can be Saviors for their future posterity and, through the temple, their deceased ancestors.
Being Saviors on Mount Zion in Hebrew more literally translates as judges or deliverers. The same word used as "Saviour" is also used in Judges 3:9 to describe people like Samson, Deborah, and Gideon. It also has a ring of Isaiah 61:1-3 which is what Jesus read before the Synagogue in Luke 4:16-20. While it is wholly appropriate to interpret being Saviors on Mount Zion as a reference to doing temple work for our deceased ancestors, it is also just as true that the ancients understood this phrase to refer to those who would save those in captivity, poverty, and brokenheartedness on this side of the veil.
President Charles W. Penrose gives us a large expansive understanding of being "Saviors on Mount Zion":
"Let us Latter-day Saints, called to be saviors of men, called to be saviors of this world, called to be saviors to introduce that which will save mankind and bring them up from their lowest state into a condition where they will be fit to hold converse with Deity, let us be careful that we plant in the minds of our children the truth and nothing but the truth so far as we can understand it. . . . The boundless universe is before us all to learn and to live and to come up to the standard occupied by our Eternal Father and to be fit for his society." (Conference Report, April 1918, p. 22)